Robots and Avatars – FACT
Exhibition
The Robots and Avatars Exhibition has presented at FACT, Liverpool (UK) from 16 March to 27 May 2012.
Robots and Avatars – our colleagues and playmates of the future.
Join us in a near future where robots, avatars and telepresence form part of an exciting new reality.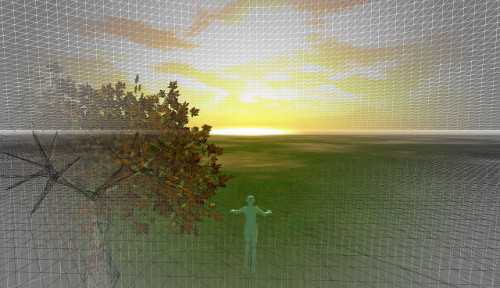 Robots and Avatars Exhibition showcases the most exciting visions and innovations from international artists, designers and architects, exploring their impact on the future of work and play. Robots and Avatars departs from pop culture imagery and re-imagines these technologies for a new reality: how do we envisage our future relationships with robotic and avatar colleagues and playmates, and what point does this evolution cross our personal boundaries of what it is to be a living, feeling human being?
Robots and Avatars is a programme of work which began in 2009. It was originally conceived and produced by body>data>space who led the project through research and development into an EU Culture project involving 5 other UK and European partners
The exhibition presents immersive experiences – from physical limbs rendered into pixels through the act of touch, collaborative landscapes stretching beyond the confines of popular gaming, to wearable and interactive technologies that guide and confound, including a new Commission developed in collaboration with the National Theatre: "Visions of our Communal Dreams".
Read more about Robots and Avatars at FACT on their website. link is http://www.fact.co.uk/projects/robots-and-avatars/
What do the Media say about the Exhibition? Read more about here.
---
Selected  pieces that have been presented at FACT from 16 March to 27 May 2012
Development Commission
Exhibits
Martin Hans Schmitt
Robotworld
Germany
Martin Bricelj, Martin Wheeler, Slavko Glamocanin & Neven Korda //
Codeep Cultural Association MoTA
"Public Avatar & RoboVox"
Slovenia/Slovenia
Shu Lea Cheang & Co
"UKI"
France/Spain
Matthieu Cherubini
"rep.licants.org"
Switzerland/Switzerland
Alastair Eilbeck & James Bailey
"MeYouandUs"
UK/United Kingdom
Salvatore Iaconesi & Oriana Persico // Art is Open Source
"The Electronic Man"
Italy/Italy
Lawrence Malstaf
"Compass"
Belgium/Norway
Aymeric Mansoux, Dave Griffiths & Marloes de Valk
"Naked on Pluto"
France/Netherlands
Karina Smigla-Bobinski
"ADA"
Poland/Germany
Chris Sugrue
"Base 8"
USA/Slovenia/Spain
The Robots and Avatars exhibition in the UK is co-produced in the UK by body>data>space (London) and FACT (Liverpool) in collaboration with the National Theatre (London). European co-organisers are KIBLA (Maribor/Slovenia) and AltArt (Cluj Napoca/Romania). With the support of the Culture programme of the European Union, this project was conceived by lead producer body>data>space in association with NESTA. Supported using public funding by the Arts Council of England.