Robots and Avatars – AltArt, Romania
ADA – an analog interactive installation / kinetic sculpture
at AltArt Foundation Romania
Plan B Gallery – The Paintbrush Factory
Str. Henri Barbusse 59–61, 400616 Cluj, Romania
13th November – 2nd December 2012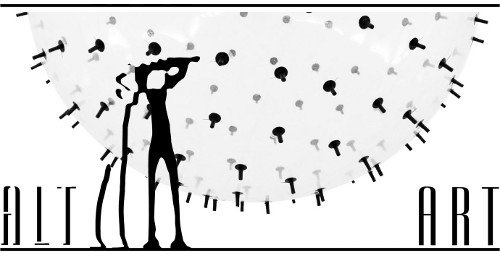 ---
Robots and Avatars
Robots and Avatars is a programme of work which began in 2009. It was originally conceived and produced by body>data>space who led the project through research and development into an EU Culture project involving 5 other UK and European partners.
In Altart (Cluj Napoca, Romania) Robots and Avatars is presenting:
ADA – an analog interactive kinetic sculpture by Karina Smigla-Bobinski, similiar to Tinguely's «Méta-Matics», acts itself. At Tinguely's it is sufficient to be an unwearily struggling mechanical being. He took it wryly: the machine produces nothing but its industrial self-destruction. Whereas «ADA» is a post-industrial "creature", visitor animated, creatively acting artist-sculpture, self-forming artwork, resembling a molecular hybrid, such as a one from nano biotechnology. It developes the same rotating silicon-carbon-hybrids, midget tools, miniature machines able to generate simple structures.
more info about ADA …
see video about ADA …
---
The exhibition is part of the RACIF project, coordinated by lead organiser body>data>space, London (UK) and co-organisers KIBLA, Maribor, Slovenia and AltArt, Cluj-Napoca, Romania. The project is supported by the Culture Programme of the European Union. The Slovenian version is financially supported by the Ministry of Education, Science, Culture and Sport of the Republic of Slovenia and co-produced with Maribor 2012 – European Capital of Culture.