Posts tagged
Avatars
Robots and Avatars discusses and debates the future implications of using avatars within education and for young people; how they might or might not be best used to mediate identity or how we can think about collaboration with them but it is important not to forget that one of the best ways to find out about virtual presence is by making and using your own avatar. On the right is one I have just created!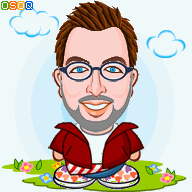 The progression from experts having to create avatars to pretty much any user being able to experiment with virtual presence and virtual worlds has enabled a far greater integration of avatars, not just into our experience of using the web but also, into our everyday lives. The foremost environment for this is of course Second Life but avatars pop up all over the place – sometimes we don't even realise that we are using them. Facets of more complex avatar identities found in Second Life and online gaming environments can be seen in much simpler terms on our Facebook profiles and Twitter accounts and more and more sites are asking you to create an 'avatar' as an important basis for communication via websites, in comment boxes and so on.
As security is a vital issue for students who wish to have an online presence Robots and Avatars seeks to find ways to open out the discussion and create new models for leaners around how to safely, creatively and intuitively empower them to make these decisions themselves. There is also another more playful and creative exercise in actual the creation of avatars themselves. Underpinning this is a consistent interplay between your 'real' self/identity and the virtual version you choose to put out there.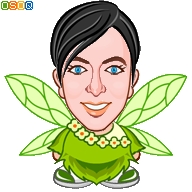 Below are a series of tools that you can use to create an avatar to express your identity but still retain a degree of anonymity. These would be an excellent starting point for teachers and educators interested in integrating avatars into their lessons as they allow simple, playful and creative engagement with virtual identity. Robots and Avatars is just putting the final touches into a series of workshops which explore these sorts of issues in more depth and with key experts and professionals. To find out more about this check out our new education section.
Avatar Making Tools:
Osoq – A nice little tool to create an animated Avatar, plenty of options and works very well.
Simsonize Yourself – Have you ever wanted to be in the Simpsons?
Doppel Me – Creates a very life-like Avatar in no time at all.
Build Your Wild Self – Something a little different. This allows you to build an avatar which is half human half animal.
LegoMan – Create a lego version of yourself. Not as lifelike obviosuly and you need to do a screen print in order to copy the image as there is no way to export the image.
Meez – The most sophisticated tool which creates an animated avatar to use as your identity. There are a range of download options, if it cannot be embedded directly to your website you can download the file as an animated gif which can then be inserted as an image file.
Mikons – This site doesn't allow you to create a personal avatar but rather a personalised icon (Mikon) which could be used to represent your students. This is a screen shot and well worth a look if you are looking to create an online presence/logo etc.
Evolver – A new site that allows you to create a 3D avatar. Complete control over the look and avatar can be saved as a static image or an animated Gif. There is also a function to upload a real photo of you. This site also offers access to a 3D world.
HeroMaker – Create your own superhero avatar.
Voki – allows you to create personalized speaking avatars and use them on your blog, profile, and in email messages created by Oddcast
Avatar yourself – Oddcast is the leader in providing talking characters- a more sophisticated option over Voki. They produce tools for a range of marketing campaigns and they can be viewed as a collection by following the link. Simply upload a picture of yourself and begin.
Some sources from Web 2.0 in Education