Robots and Avatars exhibition needs human avatars for FACT opening!
Do you have what it takes to be our human test subject?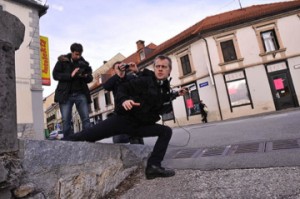 For the launch of  Robots and Avatars, artist Martin Baraga Bricelj has set the public of Liverpool a challenge, to get involved in the UK premiere of his Public Avatar project. He needs two people, or as he calls them, "human test subjects" to take the form of the Public Avatar on 15 and 16 March.  The "avatars" will be hooked up to GPS and AV visual systems and set loose around the city of Liverpool under the control of the Liverpool public who will be sending out simple instructions.
Bricelj describes the project as,  "one that documents the relationship between virtual reality and our perceptions of self and society. Public Avatar will allow a global audience to explore real-world locations remotely and to interact with objects and people in those locations through real-time control of a human test subject. As digital and physical worlds collide, the boundaries between self and other, reality and simulation are constantly challenged and redefined." In a sense, Bricelj is aiming to redefine virtuality, and he adds the warning, "users may feel as if they are playing a computer game, although they should remember that the action is happening in real-time in the real world".
The project first premiered in Slovenia in 2009, where there were 100 visitors to public-avatar.com signed up ready for their 3 minutes of control. Actions were simple to start, such as turn left and right, but then got more creative and the avatars were soon getting people to peel their recently purchased bananas and making postcards! We can't wait to see what Liverpool has in store for the next Public Avatars.
Have an interest in the performative and available on 15 and 16 March then maybe you could be one of the next Public Avatars?