Posts tagged
mebot
This great TED talk Cynthia Breazeal expands further on one of the recurring themes of Robots and Avatars – the increase in personal and domestic use robots and the implications this may have for young people in particular. As a grad student, Breazeal wondered why we were using robots on Mars, but not in our living rooms. The key, she realized: training robots to interact with people. Now she dreams up and builds robots that teach, learn — and play. Watch for amazing demo footage of a new interactive game for kids.
Cynthia Breazeal founded and directs the Personal Robots Group at MIT's Media Lab. Her research focuses on developing the principles and technologies for building personal robots that are socially intelligent—that interact and communicate with people in human-centric terms, work with humans as peers, and learn from people as an apprentice.
She has developed some of the world's most famous robotic creatures, ranging from small hexapod robots to highly expressive humanoids, including the social robot Kismet and the expressive robot Leonardo. Her recent work investigates the impact of social robots on helping people of all ages to achieve personal goals that contribute to quality of life, in domains such as physical performance, learning and education, health, and family communication and play over distance.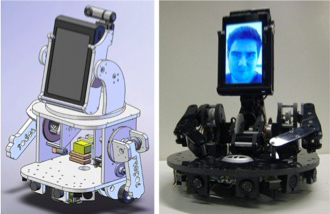 Presenting as part of the Robots and Avatars Collaborative Futures Panel at the Kinetica Art Fair 2010, Professor Noel Sharkey coined the phrase "Robatars", citing the example of physical military drones operating in war-zones, yet controlled by operators in the Nevada desert. He explained how "virtual Reality is coming into play in a new way, which you could call "Real Virtuality" – you're looking at VR in a cocoon, where you can smell, touch and so on."
MIT's recent MeBot – a semi-autonomous robotic avatar that gives people a richer way to interact remotely with an audience than is allowed with phone and video conferencing, brings this idea from military spheres into the personal domain. The MeBot is designed to be able to convey its users' gestures, head movements and proxemics and as it does its designers aim to expand the capabilities of mobile and wireless communication.  Initial experiments showed that users felt more psychologically involved in the remote interaction particularly because of the basic embodiment that the robot allows.
Check out this video to see the MeBot in action:
[http://www.youtube.com/watch?v=aME2aeIzbQo]