Posts tagged
Europe

Organised by the EU Commission and Culture in Motion, the Conference 'European Audiences: 2020 and beyond' conference recognizes audience development as a crucial priority in the proposal for the Creative Europe Programme for the period 2014-2020.
Ghislaine Boddington will present body>data>space pioneer methodology in the creative engagement of the audience through digital and interactive tools, focusing especially on Robots and Avatars EU project.
Bringing together top level cultural practitioners and operators involved in EU collaborative projects and recognized as innovators in engaging the public, the Conference will focus on audience development as a strategic, dynamic and interactive process of making the arts widely accessible.
16-17 October 2012 at the EGG in Brussels.
Read more about Ghislaine's presentation on this page.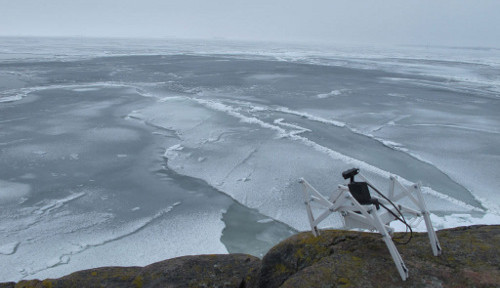 The exhibition presents a variety of immersive experiences – from unconventional approaches to social networks, re-defining and exploring their influences and dead ends, through virtual worlds rendered into pixels through the act of touch, collaborative landscapes stretching beyond the confines of popular gaming, to electro-acoustic biological extensions, wearable technologies and interactive robotic elements that affect and try to define us, to seemingly ordinary, human behavior imitating robots.
Alongside the presented artworks,the Exhibition will include a series of workshops run by Artists, events and debates.
Exhibiting artists and works:
Louis Philippe Demers/Processing Plant (CA, DE): The Blind Robot; Ruairi Glynn / Motive Colloquies (UK): Sociable Asymmetry; Michael Takeo Magruder, Drew Baker, Erik Fleming, David Steele (UK): Visions of Our Communal Dreams; Niki Passath (AT): ZOE; Mey Lean Kronemann (DE): lumiBots; Sašo Sedlaek (SI): Beggar 1.0; Andre Almeida, Gonçalo Lopes, Francisco Dias, Guilherme Martins (PT): NAVI; Marco Donnarumma (UK): Music for flesh II; Martin Bricelj Baraga, Slavko Glamoanin / MoTA (SI): Public avatar, Martin Bricelj Baraga (SI): RoboVox; Aymeric Mansoux, Dave Griffiths, Marloes de Valk (FR, UK, NL): Naked on Pluto; Salvatore Iaconesi, Oriana Persico / Art is Open Source (IT): The Electronic Man; Matthieu Cherubini (CH): rep.licants.org; Martin Hans Schmitt (DE): Robot world
Opening performance
Marco Donnarumma (UK): Music for flesh II
Read more here.