KIBLA Exhibition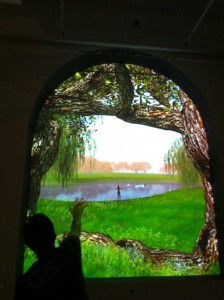 Robots and Avatars opened successfully at KIBLA (Maribor, Slovenia) Friday 5th October, and you can now join the Exhibition from a distance using different
Create, customize and  fly your avatar  in  'Visions of Our Communal Dreams' mesmerizing virtual world. Visitors at KIBLA will be able to see your avatar flying on the screens in the Gallery, which are windows onto this virtual world. Just follow these instructions: VOCD_virtual-participation-guide_v1.0_web copy
You can also instil life into the virtual forest for all to see by tweeting bird, butterfly or flower to @voocd your bird, butterfly or flower will stay in the world for 2 minutes!
Use the telepresence robot NAVI to explore the Exhibition!  Just Add magabot2 to your Skype contacts
Join and collaborate to the selected webprojects online, experience Naked on Pluto anticipation scenario, add your emotion to the Electronic Man and create you bot with rep.licants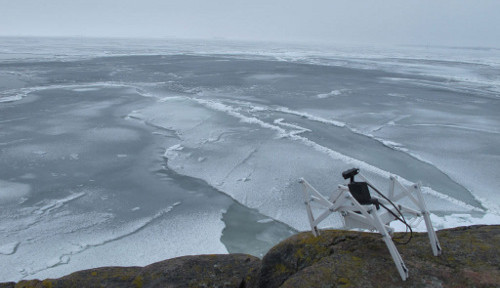 The exhibition presents a variety of immersive experiences – from unconventional approaches to social networks, re-defining and exploring their influences and dead ends, through virtual worlds rendered into pixels through the act of touch, collaborative landscapes stretching beyond the confines of popular gaming, to electro-acoustic biological extensions, wearable technologies and interactive robotic elements that affect and try to define us, to seemingly ordinary, human behavior imitating robots.
Alongside the presented artworks,the Exhibition will include a series of workshops run by Artists, events and debates.
Exhibiting artists and works:
Louis Philippe Demers/Processing Plant (CA, DE): The Blind Robot; Ruairi Glynn / Motive Colloquies (UK): Sociable Asymmetry; Michael Takeo Magruder, Drew Baker, Erik Fleming, David Steele (UK): Visions of Our Communal Dreams; Niki Passath (AT): ZOE; Mey Lean Kronemann (DE): lumiBots; Sašo Sedlaek (SI): Beggar 1.0; Andre Almeida, Gonçalo Lopes, Francisco Dias, Guilherme Martins (PT): NAVI; Marco Donnarumma (UK): Music for flesh II; Martin Bricelj Baraga, Slavko Glamoanin / MoTA (SI): Public avatar, Martin Bricelj Baraga (SI): RoboVox; Aymeric Mansoux, Dave Griffiths, Marloes de Valk (FR, UK, NL): Naked on Pluto; Salvatore Iaconesi, Oriana Persico / Art is Open Source (IT): The Electronic Man; Matthieu Cherubini (CH): rep.licants.org; Martin Hans Schmitt (DE): Robot world
Opening performance
Marco Donnarumma (UK): Music for flesh II
Read more here.
The Robots & Avatars Exhi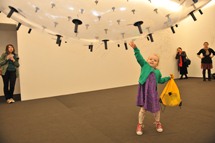 bition came to a close at the end of May at FACT, Liverpool after 10 weeks, with nearly 20.000 people visiting the Exhibition and exciting international press and TV coverage. Have a look to the TV episode that BBC Click dedicated at the Exhibition here.
Did you have a chance to play and draw with ADA, share your thoughts with Robovox, create holographic hand-ballet movement in Base8 or show off with meyouandus? Please share your stories and pictures with us and follow us via Robots and Avatars Twitter and Facebook.

Robots and Avatars showcases the most exciting visions and innovations from international artists, designers and architects, exploring their impact on the future of work and play. The Exhibition will be presented in London, at Europe House from 19th to 28th September 2012, so get ready for more cutting edge interaction blurring the boundaries between physical and virtual worlds!
It will tour onwards to KIBLA (Slovenia) and AltArt, Cluj-Napoca (Romania) in 2012.