Archive for
October, 2012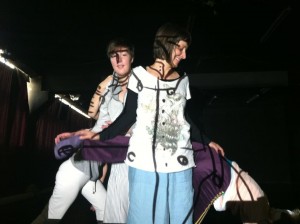 body>data>space associate director, Leanne Hammacott together with Jo Blowers (Contact Improvisation specialist from the UK) have been to Cluj, Romania to deliver a series of workshop days from 21st to 24th October as part of Robots and Avatars with our Partner AltArt and Groundfloor Group and a group of dancers, technologists and visual creatives.
The group has been exploring how we can represent the body in multiple ways on and off-line, working with motion capture and Kinect technologies to explore new possibilities of artistic expression with the body and virtual ID.
Movers: Bodolai Balázs, Jo Blowers, Kata Bodoki-Halmen, Alina Ciceu, Laura Codreanu, Racz Endre, Sinkó Ferenc, Both József. Alina Porumb, Zsuzsanna Vass, Gothárd Vera.
Visuals: Anna Peter,Alex Popa, Istvan Szakats
Support and documentation: Lavinia Jaba , Vaczi Roland , Emilia Zbranca
Organizers: Leanne Hammacott (body>data>space), Kelemen Kinga, (Groundfloor),  Rarita Zbranca (Altart)
More pictures coming soon!

Organised by the EU Commission and Culture in Motion, the Conference 'European Audiences: 2020 and beyond' conference recognizes audience development as a crucial priority in the proposal for the Creative Europe Programme for the period 2014-2020.
Ghislaine Boddington will present body>data>space pioneer methodology in the creative engagement of the audience through digital and interactive tools, focusing especially on Robots and Avatars EU project.
Bringing together top level cultural practitioners and operators involved in EU collaborative projects and recognized as innovators in engaging the public, the Conference will focus on audience development as a strategic, dynamic and interactive process of making the arts widely accessible.
16-17 October 2012 at the EGG in Brussels.
Read more about Ghislaine's presentation on this page.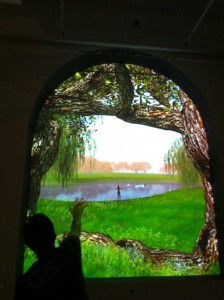 Robots and Avatars opened successfully at KIBLA (Maribor, Slovenia) Friday 5th October, and you can now join the Exhibition from a distance using different
Create, customize and  fly your avatar  in  'Visions of Our Communal Dreams' mesmerizing virtual world. Visitors at KIBLA will be able to see your avatar flying on the screens in the Gallery, which are windows onto this virtual world. Just follow these instructions: VOCD_virtual-participation-guide_v1.0_web copy
You can also instil life into the virtual forest for all to see by tweeting bird, butterfly or flower to @voocd your bird, butterfly or flower will stay in the world for 2 minutes!
Use the telepresence robot NAVI to explore the Exhibition!  Just Add magabot2 to your Skype contacts
Join and collaborate to the selected webprojects online, experience Naked on Pluto anticipation scenario, add your emotion to the Electronic Man and create you bot with rep.licants